The Best Water Slide Rentals In Lakeland, FL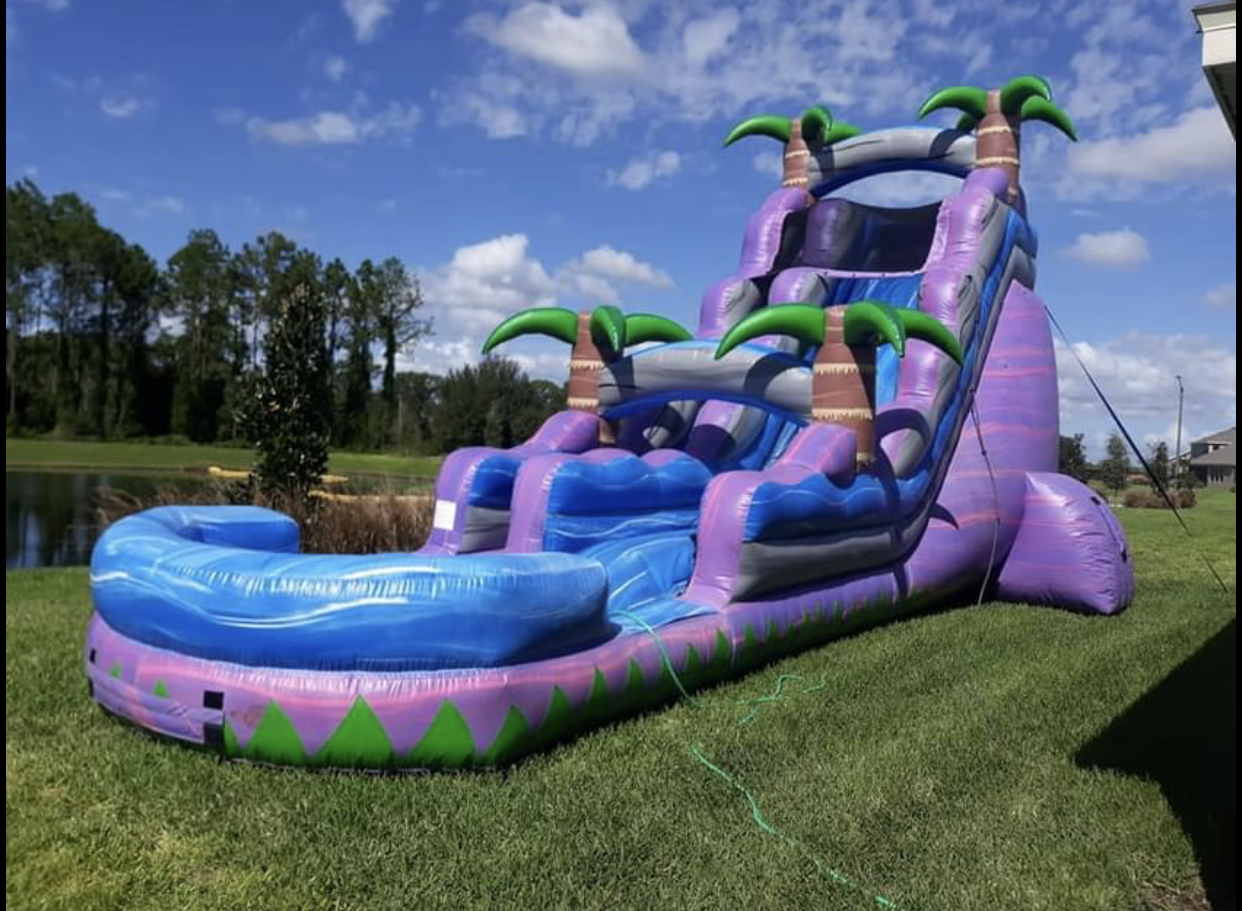 Welcome to the best selection of water slide rentals in Lakeland, FL
At LY Jumping, we have the largest selection of various water slides in Lakeland, FL. Whether you want something that can make a grown man cry or a toddler enjoy the summer, we have just the thing for you.

We are the premier provider of various types of inflatable water slide rentals in Lakeland. We have the best selection of slides to cool off in the pool or if you would instead dunk someone in a dunk tank, we have it all.

Our largest water slide Lakeland, FL, has been the life of many birthday parties and fundraising events in the city. However, we firmly believe that you shouldn't have to pay more than you can afford to have fun in the summer, that's why we have a large selection of slides, one for everyone! In fact, we can help you choose the right water slide for your upcoming party or event.
Select Your Date!
  Water Slides

Finest Water Slide in town, available for parties, etc.
Why Water Slide Rentals Make the Most Sense In Summer?
Bounce houses are hands down the best addition to any summer bash, but if you also want something to help people cool off, nothing does a better job than a good old inflatable water slide. What's even better is if it isn't old at all! At LY Jumping, our large selection of water slide rentals includes some of the classics that have been the staple for parties since we were children to some of the latest ones that make grown people want to try them out.

Some of our popular large inflatable slides include the 20Ft Tropical Fiesta Breeze, 24ft Purple Crush and the Fiesta Dual Lane Combo. In fact, these inflatable slides are so popular; we strongly advise that you book them weeks ahead of time since that's the only way to ensure any one of these will be available for your party. That said, if these aren't available we have loads of other options, some of them similar and others are very different, but each one offers hours of fun in the sun!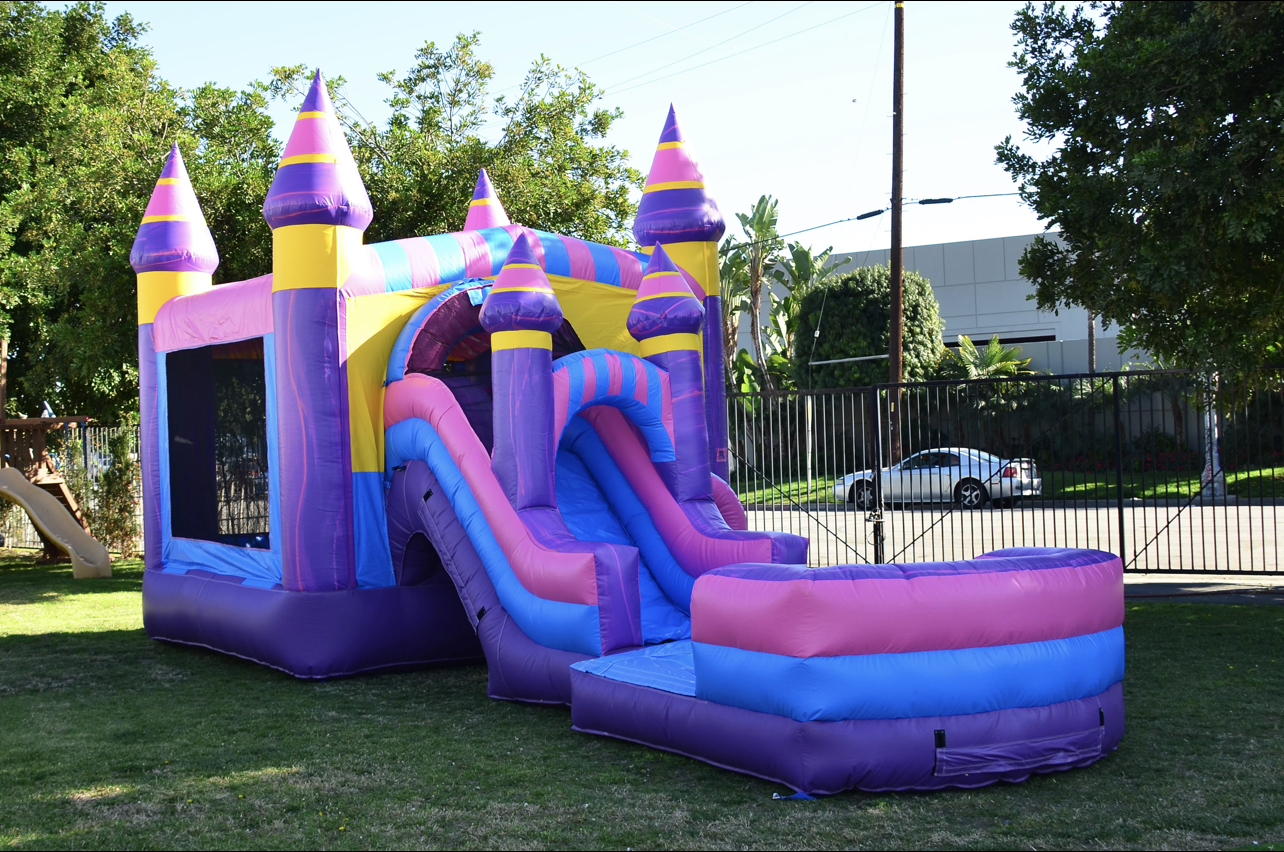 Our professional staff will deliver and install the cleanest water slides in the area!
When you hire a water slide Lakeland FL from LY Jumping, we make sure of a few things, the most important being ensuring that the slide is delivered on time. Our team also makes sure to set up the water slides exactly as you need them to be in terms of location. However, you will need to have a source of water nearby; after all, these are water slides! Once everything is set up, our team will leave you to party.

After the party, we will take down the water slides and bounce houses you might have hired and transport them back to our warehouse. We do this just so that you don't have to worry about setting these things up or taking them down. It also allows us to ensure that the water slides are being used safely and address any concerns our clients might have on the spot.

At LV Jumping, we take extra care to ensure that our water slides are clean and sanitized. That means you will always be delivered water slides that are free from dirt, stains, or any other issue. Plus, we take extra care to sanitize the water slide each time it is delivered and then when it is retrieved from your property.

All our water slides are also independently tested for various safety issues. Doing this assures our clients that the water slides are safe to use under normal conditions. However, should anyone have a question about the safety of our water slide rentals, we are happy to help by answering those questions.

We Have Loads of Budget-Friendly Options
We have lots of water slide rentals Lakeland FL. You can choose from one of our many budget-friendly options, which offer the same type of fun but at a lower price. At LY Jumping, we strongly believe that water slide rental shouldn't be expensive. You shouldn't have to worry about spending more than you want to, to have fun. That's why we've made sure that our prices across the board are competitive. If anything, you'll save money on water slide rentals or bounce house rentals in Lakeland, FL by choosing to rent from us than anywhere else. We also have the best selection of Lakeland party rentals in the entire area.
If you want to find out more about our budget-friendly options, please feel free to get in touch with one of our experts over the phone. Our experts will help you find the right size and type of water slide based on the type of party you are planning.